Your Right to Privacy
We are greatly concerned with the right to privacy of our students. The files of visiting students who eventually register for our courses are kept absolutely confidential; we request mailing address (and not their physical residential address), and telephone calls to the students are mostly limited for rescheduling classes in the event that there is inclement weather in the city. Moreover, we even have students in the Internet who, for their own particular personal reason (that we respect, we never judge and we never question), use a pseudonym. In regards to Internet instruction, it does not matter knowing the name of the student, provided that the "pseudonym" is kept on record --and remains the same-- for the continuity of lessons via eMail.
Here is a list of web sites that sell and/or speak about privacy and/or privacy-enhancing software. Please be advised that The Gnostic Association -- City of New York does not endorse any ads in these web sites and/or cookies these web sites may place inside your computer with or without your knowledge or consent. The performance of the software these web sites speak about is, to the best of our knowledge, satisfactory. These web sites also seem to be reliable. (You are welcome to peruse our Disclaimer page.)
New Secure Mode. SSL is short for Secure Sockets Layer. It enables our web site to use Server101's global secure server facility and have content from this website encrypted between the server and the browser. When you view a web page, the web browser on your computer requests the web page from the web server, which can literally be on the other side of the world. The web page must then travel to your web browser so you can view it.
Your browser would show a padlock icon (

) in the bottom border when engaged in any web site in SSL mode.

Normally, any data going to and from your computer is not encrypted, so anyone with the inclination and the know-how can actually see what you are browsing. More importantly, private information (such as credit card details and passwords) that you enter into a web page can also be seen.

When you view a web page using SSL, the web server encrypts the web page before sending it, and your web browser decrypts the web page before you view it. Anyone sniffing around for information will be unable to see the web page you are browsing or read the data you entered.

SSL is generally used when someone is asked to enter private information into a web page form. That way, the information entered won't be seen by anyone other than the intended recipients of that information.
Those of you who receive a message such as: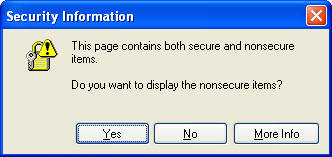 should select "No", in order to remain with our web site's SSL capability.
SSL is now being implemented for our selected advanced students, who will be downloading advanced lessons that could confuse beginners in our studies and those who belong to the public lecture group.
Gibson Research
GRC is an independent group of computer technicians and researchers who are greatly concerned about the vulnerabilities of today's most popular computer operating systems, and on what these vulnerabilities imply to the computer if it is connected to a network or to the Internet. Their research is not biased and their statements are verifiable by the most competent researchers/technicians in the Information Technology (IT) field. We recommend browsing the GRC web site every now and then, and to join their e-Mail notification system for new updates on computer viruses and other operating system security vulnerabilities being discovered by their research team.
Evidence Eliminator
Evidence Eliminator is a software that erases all tracks left in web browsers. Its uses are many, however here our intent is to let know of its uses in maintaining web browsing habits absolutely private.
Pest Patrol
There are web sites and software that install special commands into the computer and in particular into the computer registry that enables certain people have access to private data stored inside the computer (like credit card numbers, web site addresses recently visited, private files and documents); this kind of software is known as spyware, and is installed usually without knowledge and consent of the computer user (we quote): "Any product that employs a user's Internet connection in the background (the ""backchannel"") without their knowledge or explicit permission, and gathers/transmits info on the user or their behavior. Products include Aureate /Radiate, Conducent / Timesink, Transcom's BeeLine, Comet Cursor, GoHip, and Web3000. Spyware products wrap other commercial products, and are introduced to machines when those commercial products are installed." We strongly alert against spyware such as "InternetALERT," a self-proclaimed computer user internet "protector" that authorities in the IT field affirm it installs spyware inside your computer without your knowledge and consent (see http://www.safersite.com/PestInfo/db/i/internetalert.asp). Pest Patrol has an extensive list of registered spyware and is enabled to detect and delete spyware found on the user's computer; this list is being continuously updated and it is advisable to update Pest Patrol software from time to time as well.
Freedom
Freedom is a software that enables browsing "anonymously". The effectiveness of this software and the Freedom service depends, according to the Freedom team, on whether your web browser acts and behaves as it should. They recommend using not-so-popular web browsers such as Opera (available through ZD Net).
Anonymizer
Anonymizer enables one to surf anonymously on the Internet. It does not require software like Freedom does, and if you're on a relatively sensible budget, you can subscribe to their services for as low as US $5.00 per month (paid at least on a quarter basis). Some links reference a Javascript method. According to the Anonymizer services experts, Javascript poses a potential threat to your anonymity, and is therefore disabled by Anonymizer serivces. Please let us know if our web site within Server 101 does not enable you to make use of Anonymizer services; we would then try to solve this issue. You are supposed to be able to peruse this web site anonymously through the Anonymizer.
ZoneAlarm
ZoneAlarm is an outstanding software that acts as a computer firewall. It has a version that is free of charge (for home and not-for-profit organizations). ZoneAlarm renders a performance beyond expectations. It alerts the computer user, while browsing the Internet, whenever someone is attempting to access the computer files. There is also a professional version known as ZoneAlarm Pro, which is for sale.
When two people subscribe to Hushmail, there is an end-to-end encryption and privacy in the e-mail and attachments. Its newest version is now PGP-enabled. We recommend Hushmail for e-mailing us very confidential questions on advanced topics (e.g., alchemy). Our e-mail in Hushmail is GnosisNY20@Hushmail.com.
CookiePal is a software that alerts the computer user whenever a file (known as cookie) is being placed inside your computer by the web site being visited. You may configure CookiePal to accept specific cookies (e.g., subscribed web sites, bank accounts) and to reject other specific cookies.
PGP Personal Security
This program enables to have files encrypted into special folders known as "PGP disks". These PGP disks act just like a hard drive (as viewed in the Windows Explorer) when mounted. Personal and confidential files may be saved in these encrypted files and the computer user may unmount the PGP disks in order to browse the Internet with more privacy.

PGP Personal Security is developed by Network Associates.

AdSubtract
AdSubtract is a software that blocks banner ads, protects privacy and speeds up the web. It is still free for personal use. There is a professional version, AdSubtract Pro, that has even more features. You can block unwanted web items like ads, pop-up windows, animations, music and more. You can protect your online privacy by blocking unwanted cookies (files stored into your computer by a web site being visited) and managing the many cookies already present on your computer. AdSubtract Pro can block "referrers" that inform each web server how you came to their site. It supports most popular web browsers and operating systems.

PRIVACY-RELATED WEB SITES

Email Privacy
[DO NOT forget to check our Disclaimer page.] THIS WEB SITE WAS RECOMMENDED TO US BY ONE OF OUR WEB SITE VISITORS, DUE TO THE RELATION IT HAS TO PRIVACY (ONE OF OUR MAIN CONCERNS FOR OUR INTERNET STUDENTS WHO RECEIVE LESSONS PRIVATELY AND CONFIDENTIALLY VIA THE WORLD WIDE WEB.) OUR SPECIAL THANKS TO R.M.

EmailPrivacy.info investigates risk of compromising your mail security and privacy and offers you the ways to reduce this risk to a minimum.

The Internet provides one of the easiest communications tools ever afforded mankind. It is quick, convenient, cheap... and as unprivate as it is quick, convenient, and cheap. E-mail is as public as a postcard! Every letter you send through the Internet can be easily snatched up and scanned for interesting details by anyone with the right know-how. Privacy is virtually nonexistent online. But you ask, "Why should I worry about privacy? I'm not a criminal or a terrorist. I've got nothing to hide." If you really think that helps, you probably shouldn't be here after all. Show me an e-mail user who has no financial, sexual, social, political, or professional secrets to keep from his family, his neighbors, or his colleagues, and I'll show you someone who is either an extraordinary exhibitionist or an incredible dullard. Show me a corporation that has no trade secrets or confidential records, and I'll show you a business that is not very successful.